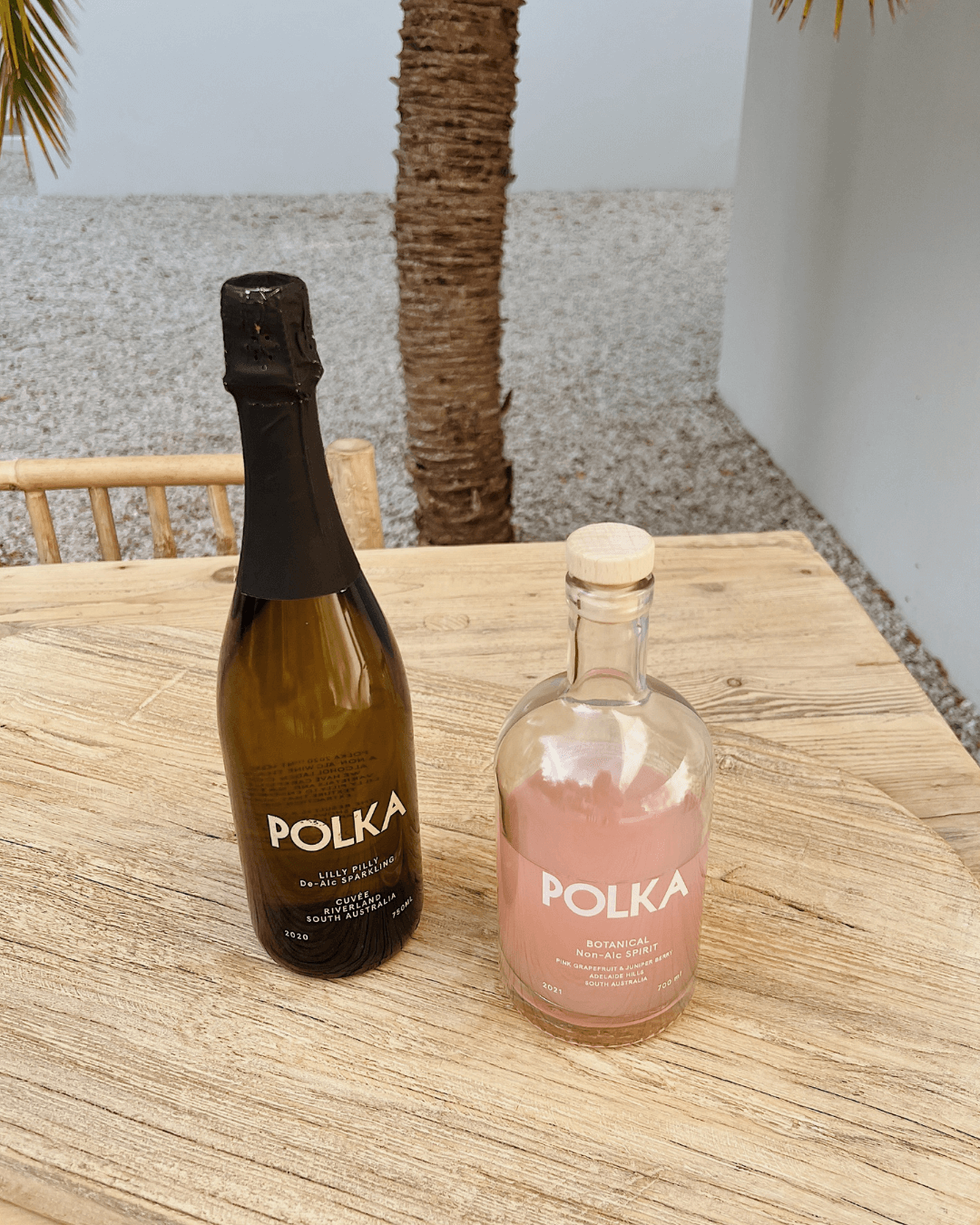 De-Alc Sparkling & Botanical Spirit Bundle
By popular demand, our two best-selling products bundled up into a discounted duo. Our De-Alc Lilly Pilly Cuvée Sparkling & Non-Alc Botanical Spirit are great options for the non-drinkers, the teetotalers or just those looking to swap out alcohol on occasion.
Non-Alc Botanical Spirit:
Water, POLKA natural extract blend; (juniper berry, Tasmanian pepper berry, pink grapefruit, finger lime, coriander, fennel, cardamom, cassia), beetroot, citric acid, potassium sorbate (preservative)

De-Alc Sparkling Wines:
De-alc South Australian wine, white wine concentrate, wild Lilly Pilly extract, ascorbic acid, sulphites.

To make our POLKA French 75, pour 3/4 glass of Polka De-Alc Sparkling into glass, add a shot of Polka Non-Alc Botanical Spirit, a squeeze of lemon and garnish with a lemon peel.
Botanical Spirit:
Servings per package: 23
Serving size: 30ml

Average Qty Per Serve:
/ Energy (kj): 4
/ Protein (g): 0.0
/ Fat, Total (g): 0.0
/ Fat, Saturated: 0.0
/ Carbohydrate (g): 0.0
/ Sugars: 0.0
/ Dietary Fibre (g): 0.0
/ Sodium (mg): 0.0

Average Qty Per 100g:
/ Energy (kj): 13
/ Protein (g): 0.0
/ Fat, Total (g): 0.0
/ Fat, Saturated: 0.0
/ Carbohydrate (g): 0.1
/ Sugars: 0.0
/ Dietary Fibre (g): 0.0
/ Sodium (mg): 0.0

Sparkling Lilly Pilly:
Servings per package: 7.5
Serving size: 100ml

Average Qty Per 100g:
/ Energy (kj): 112
/ Protein (g): 0.1
/ Fat, Total (g): 0.0
/ Fat, Saturated: 0.0
/ Carbohydrate (g): 6.4
/ Sugars: 4.8
/ Dietary Fibre (g): 0.1
/ Sodium (mg): 4