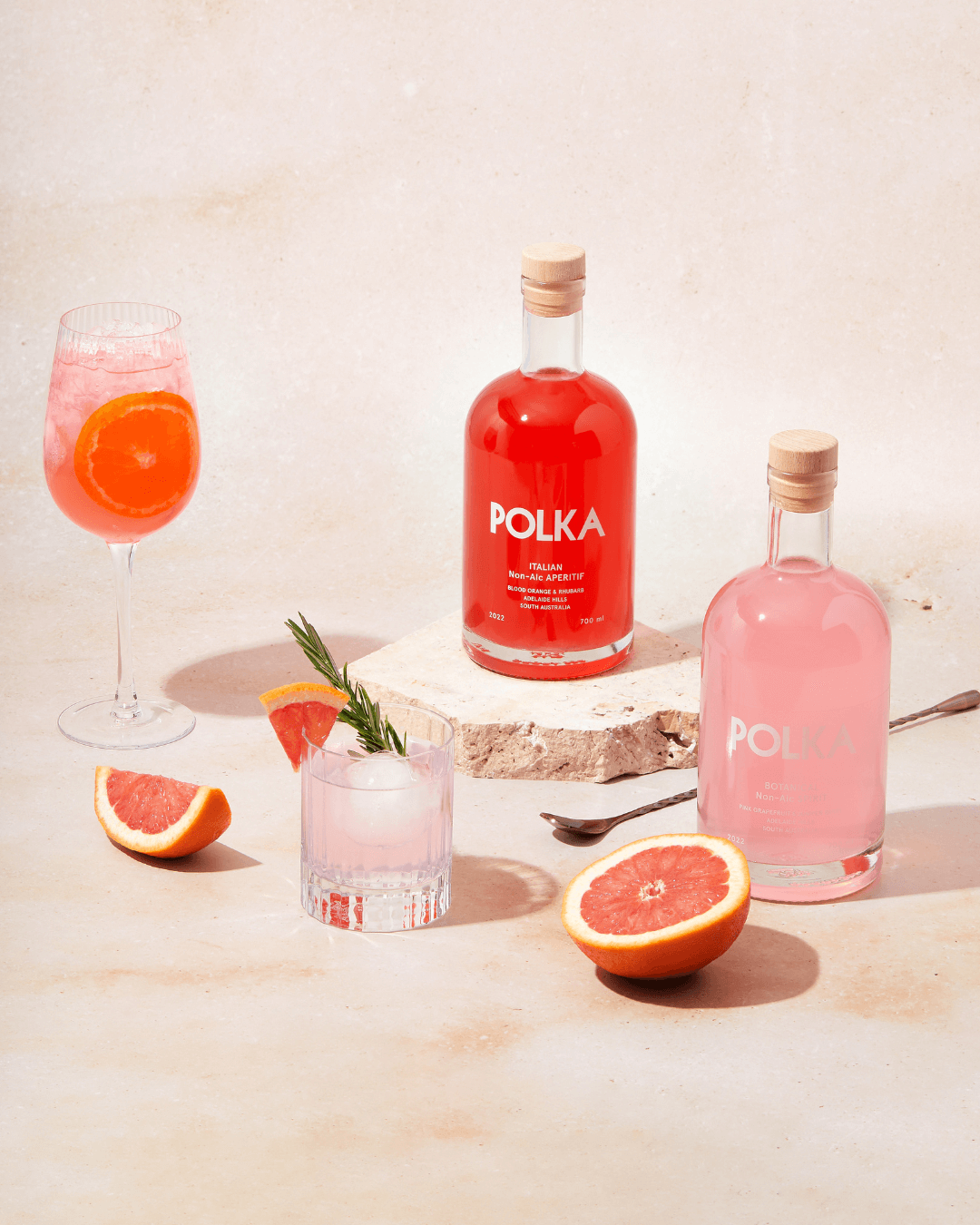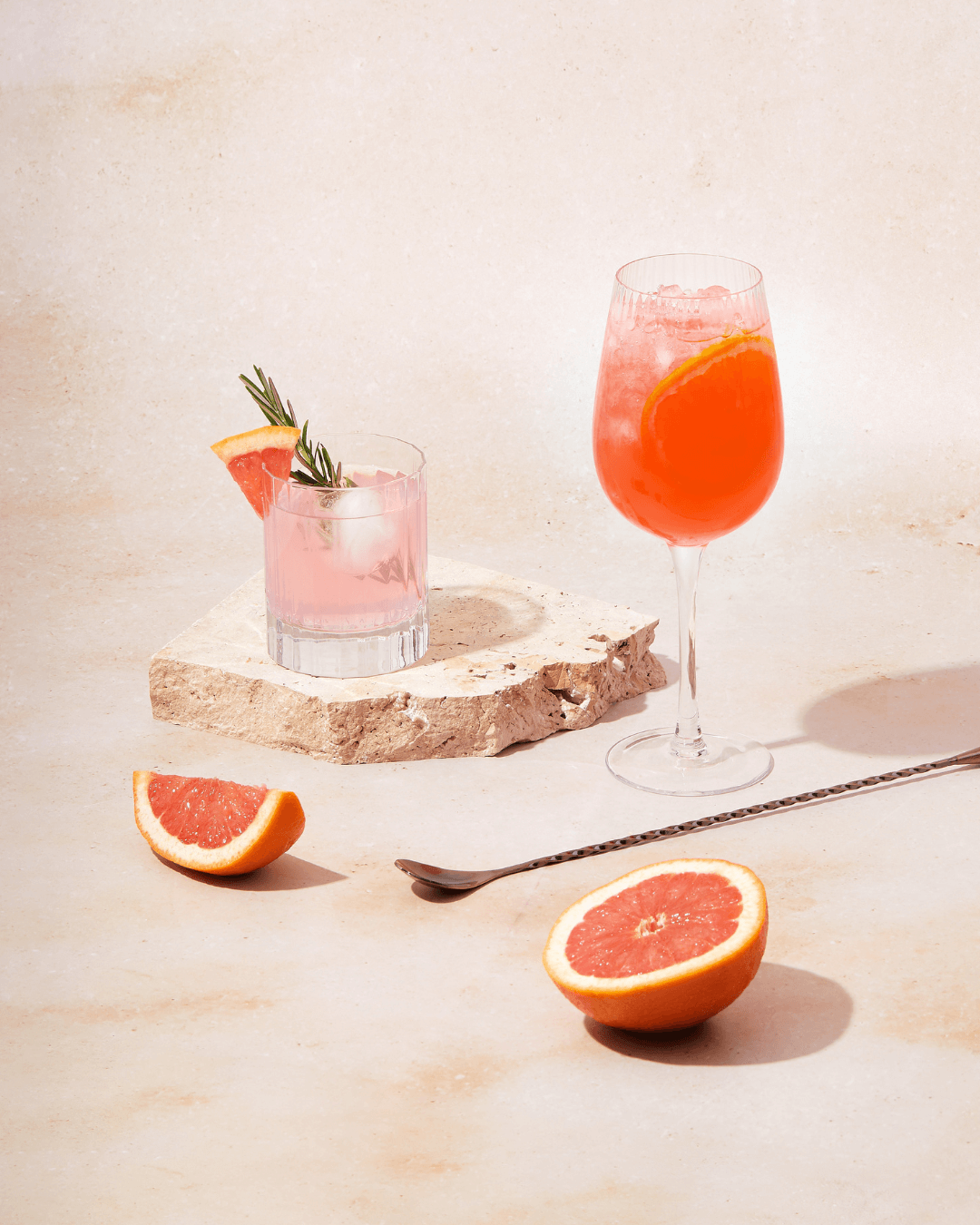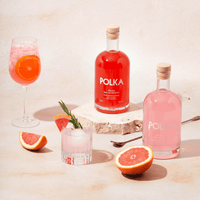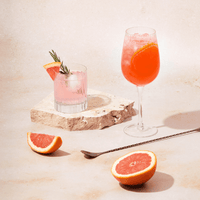 Non-Alc Botanical Spirit & Italian Aperitif Bundle
Our best-selling Non-Alc Pink Botanical Spirit is a first-of-its-kind spirit that stacks up on taste and flavour profile. Botanical infusions of juniper, pepper berry and pink grapefruit bring our non-alc spirit into a world of traditional flavours and aromas you'd only expect from a high proof gin. The natural citrus oils can settle on top so give it a shake before use and serve 30ml over ice with 200ml of dry tonic and a slice of citrus. Once open, store in the fridge.

Inspired by the traditional Italian recipe, our Non-Alc Aperitif offers a perfect balance of sweet and astringent notes.Following our well loved De-Alc Lilly Pilly Sparkling, this aperitif is crafted to perfectly pair with our sparkling to create a delicious POLKA Spritz.

Non-Alc Italian Aperitif:
Water, POLKA native extract blend (blood orange, lemon myrtle, pink grapefruit, orange bitters, lemon zest, rhubarb), natural flavour, natural colour, sugar, citric acid, sodium benzoate (preservative).

Non-Alc Botanical Spirit:
Water, POLKA natural extract blend; (juniper berry, Tasmanian pepper berry, pink grapefruit, finger lime, coriander, fennel, cardamom, cassia), beetroot, citric acid, potassium sorbate (preservative).

Non-Alc Italian Aperitif:
To make our Non-Alc Italian Spritz, pour 30-40mls of Italian Aperitif over ice, add POLKA sparkling and top with soda water. Garnish with a slice of dried orange or rosemary.

Non-Alc Botanical Spirit:
To make our POLKA Non-Alc Pink G&T, add 30ml Botanical Spirit over ice, top with dry tonic water and garnish with a slice of dried lemon, rosemary or garnish of your choice.
Botanical Spirit:
Servings per package: 23
Serving size: 30ml

Average Qty Per Serve:
/ Energy (kj): 4
/ Protein (g): 0.0
/ Fat, Total (g): 0.0
/ Fat, Saturated: 0.0
/ Carbohydrate (g): 0.0
/ Sugars: 0.0
/ Dietary Fibre (g): 0.0
/ Sodium (mg): 0.0

Average Qty Per 100g:
/ Energy (kj): 13
/ Protein (g): 0.0
/ Fat, Total (g): 0.0
/ Fat, Saturated: 0.0
/ Carbohydrate (g): 0.1
/ Sugars: 0.0
/ Dietary Fibre (g): 0.0
/ Sodium (mg): 0.0

Italian Aperitif:
Servings per package: 18
Serving size: 40ml

Average Qty Per Serve:
/ Energy (kj): 76
/ Protein (g): 0.0
/ Fat, Total (g): 0.0
/ Fat, Saturated: 0.0
/ Carbohydrate (g): 2.6
/ Sugars: 2.1
/ Dietary Fibre (g): 4
/ Sodium (mg): 0.0

Average Qty Per 100g:
/ Energy (kj): 190
/ Protein (g): 0.0
/ Fat, Total (g): 0.0
/ Fat, Saturated: 0.0
/ Carbohydrate (g): 6.6
/ Sugars: 5.3
/ Dietary Fibre (g): 10
/ Sodium (mg): 0.0